If you have an online business in Chandigarh, you should seriously think about including sweepstakes into your online marketing strategy. They are one of the most productive marketing tactics in Chandigarh to help you to expand your business, to produce more leads, and boost your brand.
The giveaways are the best and affordable to implement, but if it's done appropriately. Their advantages are much more than many other marketing techniques. With only one promotion you can get so many email subscribers, new clients, a jump in sales, and rise in the number of followers on social media or any other platform.
At the time of promoting your business, the prizes can be one of your promotional products. These awards should be enticing to increase your customer's response rate and should increase the impression of your businesses. However, a successful contest depends on the combination of overall strategy and for that, you need an expert to help you to get started and to manage overall contest campaign.
Contests are one of the best ways to build your brand if done appropriately. People in Chandigarh love to participate in contests. It is especially for some of the popular industries in Chandigarh like salons, real estates, food and beverages, travel etc.
Sweepstakes are quick to set up, easy to manage, and can provide an immense return on investment if done properly.
What are the tricks, which can make a contest popular that can attract 1000's of participants or only 30? The main difference is in the steps taken for its promotion.
There are some important things to keep in mind before launching a contest:
Fix your aim and budget
Select your awards, which will be an enticing catch
Choose an online medium and accordingly design your contest
Understand and implement the length and frequency of your contest
Make contest rules easy and simple.
Be smart in promotion and engagement. You should see how your competitor is doing.
Here are some of the best giveaway ideas to promote your business for 2019:
1. How to Rock with a photo contest?
You should keep a few things in mind before running an online photo contest:
Keep attractive rewards
Focus on thought-provoking photo ideas
Keep easy rules
Promote it extensively
Photo contests should always be industry and platform specific. Contests always require a smart way of enticing people, which will make them your future customers. Look at the above image how the famous brand L'oreal Paris has done it!
Specifically, a salon business requires focusing on their skills and products with human look and feel. People love to spend time in parlours in a beautiful city like Chandigarh. A selfie contest can rock for this business. And in order to boost your brand get ready to make a customer-centric contest.
On the other hand, a baby brand like FirstCry or Mothercare in Chandigarh requires a product promotion. They can strategies their contests in a way which will include a baby photo with their product. Remember that each business will have a different strategy.Look at the image below and see how Mothercare has designed the contest!
Your photo contest's design should show your brand. Be sure to include your logo, and the theme of the photo contest should be consistent.
Restaurant businesses can boom their business with photo contests as well. People love food in Chandigarh. If you make an enticing contest to capture your lead it will definitely boost your sales.
This is how the Pind Balluchi Brand has designed a contest as shown in the above image!
Do you know that photo contests are the best source of traffic?
After people upload their photos, you can structure the contest in a way to get that participant to share their entree with their network, asking everyone they know to vote for them.
This is a great way to give exposure to your brand.
We at KVR Webtech will use analytics to understand your business in order to design a photo contest.
2. Do you want to have a passport to persuasive referral contest in Chandigarh?
Referral contests like referring to your friends or friend's friend work well in helping you to increase your fans growth for any online platform. It is also one of the popular contests to promote your brand through online channels.

Have a look at above contest image of an education brand Marsden Early Learning Centre. This is the way to capture leads through referral contest. But it's brand specific.
We at KVR Webtech will customise contests for education or any business in specific ways.
Our team will analyse your data and do competitor analysis to design a contest.
This is how a property management services are promoting their business through an online contest. We understand that property business is booming in Chandigarh.
Our team of experts will help you to promote your property business through customised contests.
The Gym is a hobby and profession of many people in Chandigarh. Referral gym contests will generate invaluable traffic in Chandigarh if done accurately.
We will dive deep into your customers' requirements to design a contest and you can see the results.
3. Do you know how to be Successful in a hashtag contest?
Here we go-
A hashtag is a place where people with a common interest will gather on the internet. There is a hashtag for every product, industry, activity, city, style, type of food etc. Think about anything in the world and there's a good chance somebody has posted an image of it, having a hashtag. The key for making hashtags work for your business is by finding the right hashtags for your respective business,which will reach the right audience.
MTV India APAC did a successful #tag campaign. They combined their brand name with the famous festival hashtag.
Like with any other digital marketing efforts, a successful online hashtag contest starts with right goals. If you or your digital agency doesn't understand what you want to accomplish with your contest, you'll have a difficult time for the success of your campaign.
Therefore our team of contest design experts will do some tactics as given below:
We will set an intelligent goal from the very beginning.
Our team of professionals will focus on the platform like Facebook, Twitter etc and create brand hashtag, campaign hashtag, content hashtag and trending hashtag suitable for your business.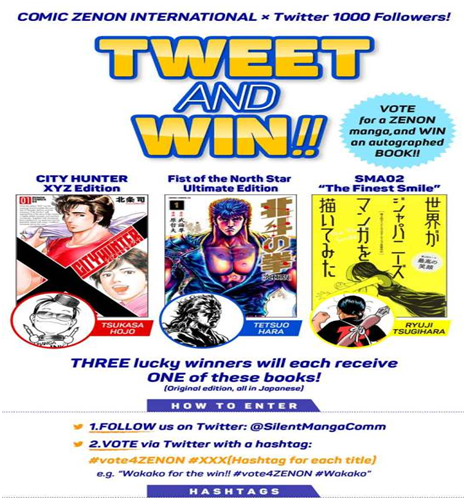 This image is an example of brand hashtag campaign for a successful contest.
We will design your contest in a way that it will get more profit to your business.
Here are a couple of examples of our business-oriented targets:
Accumulate more email addresses
Get feedback about your new product and service.
Let people know about your new products, services or events
Will definitely boost traffic to your website or shop
4. Do you want to outshine in Lucky Draws contests?
One of the simple types of the contest for any online business is the lucky draw.They are able to produce more sign-ups to your mailing list or likes and shares than any other contest.
Generally, lucky draws need your participants to fill in little details like their name, email address, and mobile number. They may even require some "evidence of purchase" for instance in the PentelCompany lucky draw contest as shown in an image below,a contestant has to submit two used refill pipes to qualify the contest.
Source: Pentel Singapore
In the same way, we can have many brand specific lucky draw contest ideas to promote a business.
5. Do you want to know the ways to be successful in Location Based Contests?
There are many social media platforms like Facebook, Twitter, and Instagram,which let the users check in at specific locations.You can also use that feature for the contests in order to get more leads. You can tell your customers to check in a number of times at your business or at a particular event. Then give a prize to one of those individuals at the end of the week or month.
Your business name will be displayed for your contestant's friends and followers as well. Absolutely there is no denying the fact that exposure will be superb for your business.
6. Do you want to know about the Caption Contest?
This caption contest idea can be simple and funny. You can post a humorous or exclusive photo to share on your Facebook page. Then tell your customers to share their thoughts for an amusing or an entertaining photo and award prize for the outstanding caption.
Have a look at an image given above. Just see how Yahoo India is doing it.
Our team at KVR Webtech have outstanding experience in running successful caption contests as given below-
We will organise and manage your caption contests.
We have realised that these contests are possibly one of the best ways to keep people glued to your page.
It tends to aggravate their creative skills and the contest involvement does not seize here. .
After our analysis, we came to the conclusion that people come hovering in to read how other people have written their captions and how successful they are.
7. Do you want to Breakthrough your Business with best "tips contest"?
Here are the tips-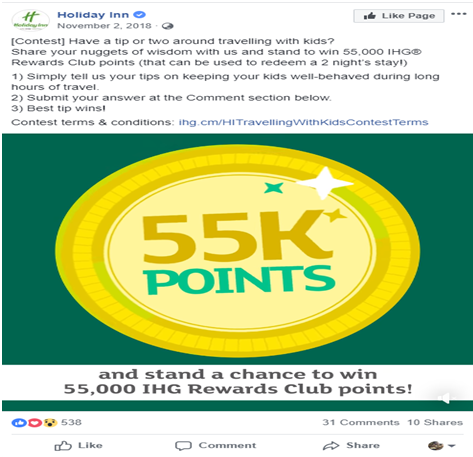 In an above image, the contest is created by Holiday Inn a famous brand, which is focused on people sharing their best tips or two around travelling with kids.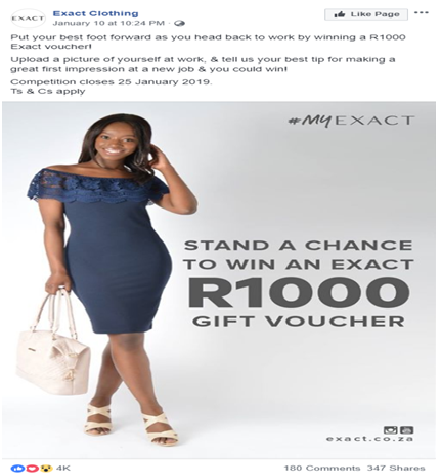 In the above image, a clothing brand is promoting their business with a tips contest.
This is the best way to make your brand or product popular on social media. You need to tell your participants to share their best tip for using your products and then choose the most popular tip.
8. Do you know Event-Based Contests are one of the most successful contests to generate business?
There are many events and festivals that come throughout the year in India.
During that period you have the best opportunity to run a contest and engage your customers.
They are always lucrative and informative, which catches people's attention and entice them to be part of it.
Here are some of the most recommended festival or event contests for Chandigarh businesses-
Do you want to boost your sales with Diwali contest?

Our contest designers and analysers will rock your sales through Diwali contests to the extent you cannot even think about.

This is the way we made our brand popular on Diwali.

This is how Elante Mall in Chandigarh promoted their business during Diwali as given in the above image.

Do you want to pump up your sales with Karwachauth contest?
When the time comes our team of professionals will gear up your Karwa Chauth festival campaign and hit your customers with no delays.

This is how a beauty brand promoted their business during KarwaChauth. If you have a beauty salon business KarwaChauth is the best time to run a contest and get maximum people to pumpup your sales.
Do you want to have a profitable Dhanteras contest?

This is how Aurelia brand promoted themselves during Dhanteras.
Don't forget that every contest requires data analytics, hard work, and intelligent brain to measure it. It has to be brand specific.
Do you want to increase your sales with Dussehra contest?

This is how a brand promoted to capture more leads through a contest on Dussehra. It's guaranteed that any business can rock their sales or get more leads by following appropriate measures to design a contest.
Do you want to have a profitable Christmas contest?

The giveaway is one of the best ways to grab your potential customers during Christmas time!
Do you want to colour your business with Holi Contest?

Don't miss this fantabulous Holi contest opportunity as well!! Gear yourself up on time.
9. Do you want to get the benefit of video contests?
Virtual Reality is one of the best ways to capture leads through contests. You have to have expertise to design this type of contest. Especially the real estate business will outshine with a video contest.It will help you to showcase your property. This is one of the amusing and entertaining ways to capture the attention of millennial.
Our team of experts can post 360 video/ photo contests for your customers.
In the contest image given below is the 360 photo contest to count the number of butterflies in it, for Lokaa developer. The best part is that they had an about an immense number of entries with over a thousand people have responded to the contest.This is one of the best ways to boost your brand or property area.
We can design a number of video contests to promote your business and they will be related to your brand or product.
10. Do you want to increase App Downloads through Contests?
Here is a way out-
Motorist.sg has designed this contest to multiply the number of app downloads. This is an outstanding way to promote your app and make it popular among people.
Any of the contests if designed professionally and promoted in an appropriate way will surely boost your business. You can see the rise in your rise in your business popularity and profits.
Time is running out and your competitors may have an edge over you. Therefore don't miss the opportunity and contact our contest designers and promoters instantly.
Author:
Aarti Sharma
I worked with Yellowpage Singapore as SEO Strategy Manager and iProperty Singapore as Internet Marketing Manager. I was employee of Currency Solutions in Central London, UK as Search Engine Optimisation Specialist Currency Solutions. My previous experience is with MNC's from USA and UK, in India as a Web Marketing Associate and Business Development Associate.